Pawboost App
Branding
Illustration
Website Design
Mobile UX/UI
Bring your lost pet home.
Advertising platform for web and mobile.
PawBoost is hyperlocal advertising platform to help pet owners find their lost pets. Pet owners can create a post of their lost pet and PawBoost will create a digital amber alert through their platform and a hyper local Facebook ad campaign as well.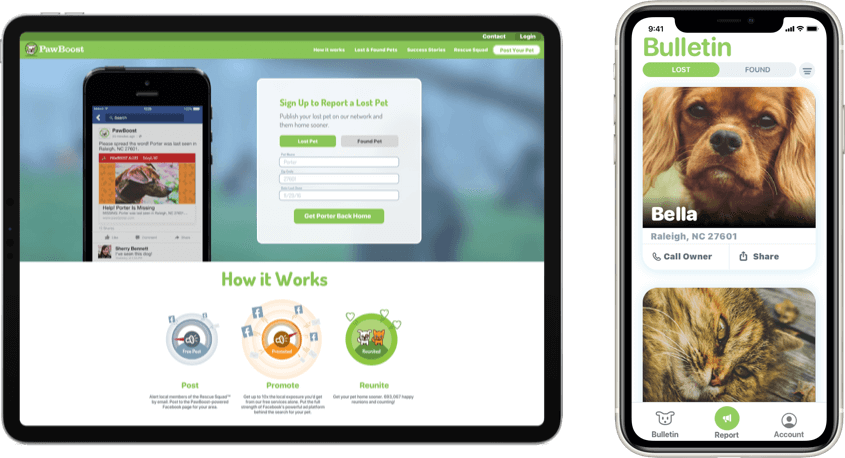 Project Objective
Improve conversion rates during the signup process to increase the number of monthly paid customers.
Increase retention by implementing a mobile application as a companion to the web application experience.
Primary Market
USER PERSONA
PSYCHOGRAPHICS
She is panicked about her missing dog. She is desperate for anything that will bring her beloved furry friend home. She makes emotion-based decisions in this situation.
She does not have time to read and absorb a dense amount of content. Wants to quickly understand how PawBoost works and how much it will cost.
Initial User Research and Diagnosis
PREVIOUS DESIGN
HOMEPAGE USER FEEDBACK
User did not know what PawBoost had to offer.
Did not know that PawBoost was a tools for Facebook Ads.
CHECKOUT USER FEEDBACK
User wanted to compare and change package option.
Visual fidelity did not convery trust.
Branding
LOGO REDESIGN
BEFORE
AFTER
ILLUSTRATIONS
BRAND PATTERNS
BRAND PHOTOGRAPHY
USER FLOWS
WEB EXPERIENCE
MOBILE APP EXPERIENCE
WIREFRAMES
DESKTOP WIREFRAMES
MOBILE WIREFRAMES
VISUAL UI DESIGN
HOMEPAGE
CHECKOUT PAGE
MOBILE APPLICATION